The "Catseye" Roadstud
The heart of the "Catseye" is the 14mm glass reflector manufactured from a special high quality glass which is highly resistant to abrasive road particles thus retaining a consistent reflective value throughout its life.
Once formed a mirror backing is deposited on the glass lens which then receives a protective coating. The reflectors are encased in a cartridge as a further defense from the elements and to assist in the final mechanical securing within the rubber insert.
Rubber is subject to different forms of degradation. In the design of the compound for the body of the "Catseye" roadstud we are particularly concerned with the adverse effects of oxygen, ozone, light heat and flexing (fatigue) – the affects of these factors are accentuated when the product is in dynamic service. Through research and development we have designed a compound:
To augment protection from the detrimental effects, of UV sunlight oxygen and ozone
To improve abrasion (rubber against rubber) and tear resistance
To advance the quality, durability and service life of the product.
We have taken advantage of changes in the Traffic Signs Regulations and General Directions (TSRGD) to launch a black bodied rubber insert which provides added protection from the adverse elements listed above and this is now widely used throughout the United Kingdom.
The "Catseye" insert incorporates a self-wiping action which is automatically performed by vehicle tyres depressing the centre part of the rubber insert causing the reflectors to be wiped against the outer stationary wiper parts of the insert.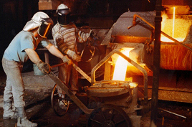 The final component part of the "Catseye" is the cast iron base. Manufactured from Grey Iron, the cast iron base affords excellent protection to the rubber insert and has been specifically designed to withstand the demands of heavy traffic and effects of snow-ploughing. The casting transmits the vehicle wheel load directly to the foundation by bearing. The roadstuds are embedded into the road surface therefore installation is permanent. Full instructions regarding installation are contained in our Paving Manual which can be downloaded from our technical section.
"Catseyes" inserts are replaceable. A replacement rubber insert is easily and quickly fitted into the existing base. The life of a "Catseye" insert is directly related to the level of traffic.
"Catseyes" have been tested and certificated to BS EN 1463 Parts 1 & 2 achieving the highest possible classification for both Night-time visibility (R1) and durability (S1) and are approved for use on all roads.